SPRING 2005 ISSUE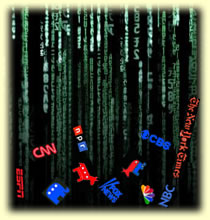 The Matrix.
Please Fit Your Views
Behind the Symbols
While many Americans hate either Republicans or Democrats with a gripping passion, many others see the differences between them as relatively minor. Some even see the two parties' fierce disagreements on emotional issues – such as gay marriage, abortion, and gun control – as fluid and convenient, designed to distract voters from the two parties' larger agreements on the billion-dollar issues – wars, global finance, environmental destruction, and exploitative global commerce.
When one considers these larger agreements and also considers the way the American corporate media emphasizes the two parties' differences essentially without commenting on their similarities, a strange thing happens. The edifice of everyday politics turns into a diaphanous veil before one's eyes, and it becomes possible to discern bits of the truth about current events... FULL STORY

M O R E F E A T U R E S:

N E W S R E V I E W:

Tips of the iceberg poking through the corporate media's endless sea of scandals and entertainment...

"Why of course the people don't want war. Why should some poor slob on a farm want to risk his life in a war when the best he can get out of it is to come back to his farm in one piece? Naturally the common people don't want war neither in Russia, nor in England, nor for that matter in Germany. That is understood. But, after all, it is the leaders of the country who determine the policy and it is always a simple matter to drag the people along, whether it is a democracy, or a fascist dictatorship, or a parliament, or a communist dictatorship. Voice or no voice, the people can always be brought to the bidding of the leaders. That is easy. All you have to do is tell them they are being attacked, and denounce the peacemakers for lack of patriotism and exposing the country to danger. It works the same in any country."
- Hermann Goering, the Hitler Administration