FALL 2004 ISSUE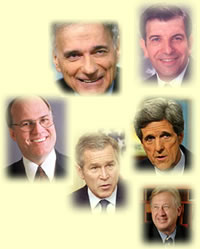 Six white men are seeking the job.


G&G

likes David Cobb, left.
The time has come to vote. Engaged citizens do everything they do with a mind to how their actions will affect their community, their neighborhood, their city, their state, their country, and their planet. For the rest of us, the bare minimum of citizenship is to vote. G&G encourages Americans to love this responsibility rather than fear it.
While voting isn't true self-rule, as it might be in an ideal democracy, it is a solemn opportunity for all citizens to communicate with their rulers. Most people throughout history have enjoyed far less self-rule than we do today. It is not a time to duck, cover your head, or hold your breath. It's not a time for timidity. It's a time to create and sustain a new movement for peace and prosperity... FULL STORY

U P D A T E S:
F E A T U R E S:
R E S O U R C E S:



The Soil:

G&G's

2004 Election Guide
Let's simplify. The issues confronting us in 2004 can be divided: The Enormous, The Large, The Medium, and The Distractions.

G&G

breaks down the issues and examines where the candidates stand...
by Tony Brasunas

More Information
Electronic Voting, Blackbox Voting, and the Rigging of Elections; the candidates' official websites; the 'real difference' between the parties; register to vote; and more...

"The price good people pay for their indifference to public affairs
is to be ruled by evil men."
- Plato